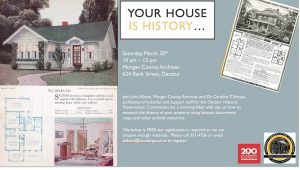 YOUR HOUSE IS HISTORY WORKSHOP – May 30, 2019  10 AM – 12 PM
Join John Allison, Morgan County Archivist, and Dr. Caroline T. Swope, architectural historian and support staff for the Decatur Historic Preservation Commission, for a morning filled with tips on how to research the history of your property using historic document, maps, and other archival resources.  SPACE IS LIMITED.
Workshop is free, but registration is required so we can prepare enough materials.  Please call 256-351-4726 or email jallison@co.morgan.al.us to register.